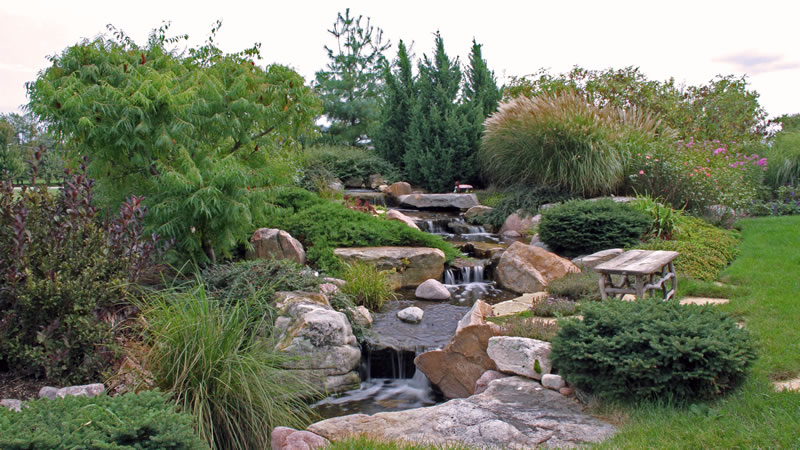 Landscape Construction And Installation West Valley & Salt Lake City
We specialize in new landscape design and build projects
Are you looking landscape your property?  Maybe you'd like to landscape a new commercial development?  Or how about a private residence or large residential development?  Landscape construction encompasses everything from clearing your land and preparing it for a landscape, softscape installation (lawns, gardens, trees, shrubs, plants) to hardscapes  (driveways, patios, outdoor structures, retaining walls) and more.
Investing in the landscaping of your property will increase it's curb appeal and increase the value of the property.  It will make the property more interesting and enjoyable.  Landscaping is one area of property improvement that always offers an excellent return on your investment.
SLC Lawn Services LLC is a local landscape construction and installation company based out of West Valley and serving the Salt Lake City Metro area.  We specialize in designing and building beautiful new landscapes.  Whether you're looking for a new front yard, a backyard, a private garden retreat, a new driveway, or an entire commercial or residential development landscaped we have the manpower, the knowledge, experience and equipment to do an excellent job.
Landscaping Construction Services Salt Lake City UT
Rock, block and stone retaining walls
Brick paver patios and walkways
Outdoor kitchen construction
Fire pit construction
New driveway construction
Gazebos and pergolas
Landscape lighting installations
New lawn installations
Water features such as fountains, ponds, and waterfalls
Land clearing and property grading
Soil delivery and spreading
Excavation and drainage services
How Our Landscape Construction Process Works
We can work directly with your landscape designer, your own design plans or we can even offer a 2D and 3D landscape design to help you envision and build the landscape you've always wanted.
We start with our initial consultation.
We will listen to your requirements, making any necessary suggestions.
We will determine the scope of work, cost of materials and start-date.
We will provide you with a detailed and written estimate for the work.
We will show up on the scheduled day(s) and complete our services as promised.
The end result will be your beautifully landscaped property.
Landscape Design Services
Small landscapes are simple enough but when we start getting into projects such as a full landscape design for both front and backyards or larger residential or commercial landscapes then we can provide expert landscape design services including both 2D and 3D renderings of your new landscape so we can be sure we've got every last detail right.
All of our design projects start with a visit to your home. During this visit we discuss and map out what you are looking for as well as the environmental limitations that we may run into. It is important to us to put the right plant in the right place, to ensure that each plant will thrive and look its' best. Using your input, we will visualize how your dream space will look and what improvements we can bring to your original vision, as well as assisting you with plant selection and placement. Important factors to look out for would be tree canopies, sunlight distribution, and overall functionality. We want your outdoor space to be something that you use, admire, and enjoy.
Implementing the newest technology of landscape design is what we do best! We can transform your outdoor space into your own paradise with design talent that exceeds the expectations of our clients. We offer electronic designs that show you a before and after picture of your design as well as a time-lapsed slide show of what your space will look like over the next 5-14 years. This gives our clients a better visual of what they will be getting. With these capabilities, making a decision on the best design for YOU, is much easier than going in not knowing what to expect.
Why Choose SLC Lawn Services For Your Landscape Project?
We understand that you have many landscape companies to choose from throughout Salt Lake City for your new landscaping.  We just want you to know that when you choose to work with SLC to design and build your new landscape you are partnering with a locally owned business that has been serving the area since 2010.  Our team has the knowledge and experience to make your properties one of the best looking on the entire street.
You can always expect knowledgeable, reliable lawn care services and great communication from a company that cares about your properties appearance and our local reputation in the community.
If you'd like to get the landscape design and installation process started then please give us a call (801) 637-8931 or fill out our online contact form and we'll get back to you right away (usually the same day).